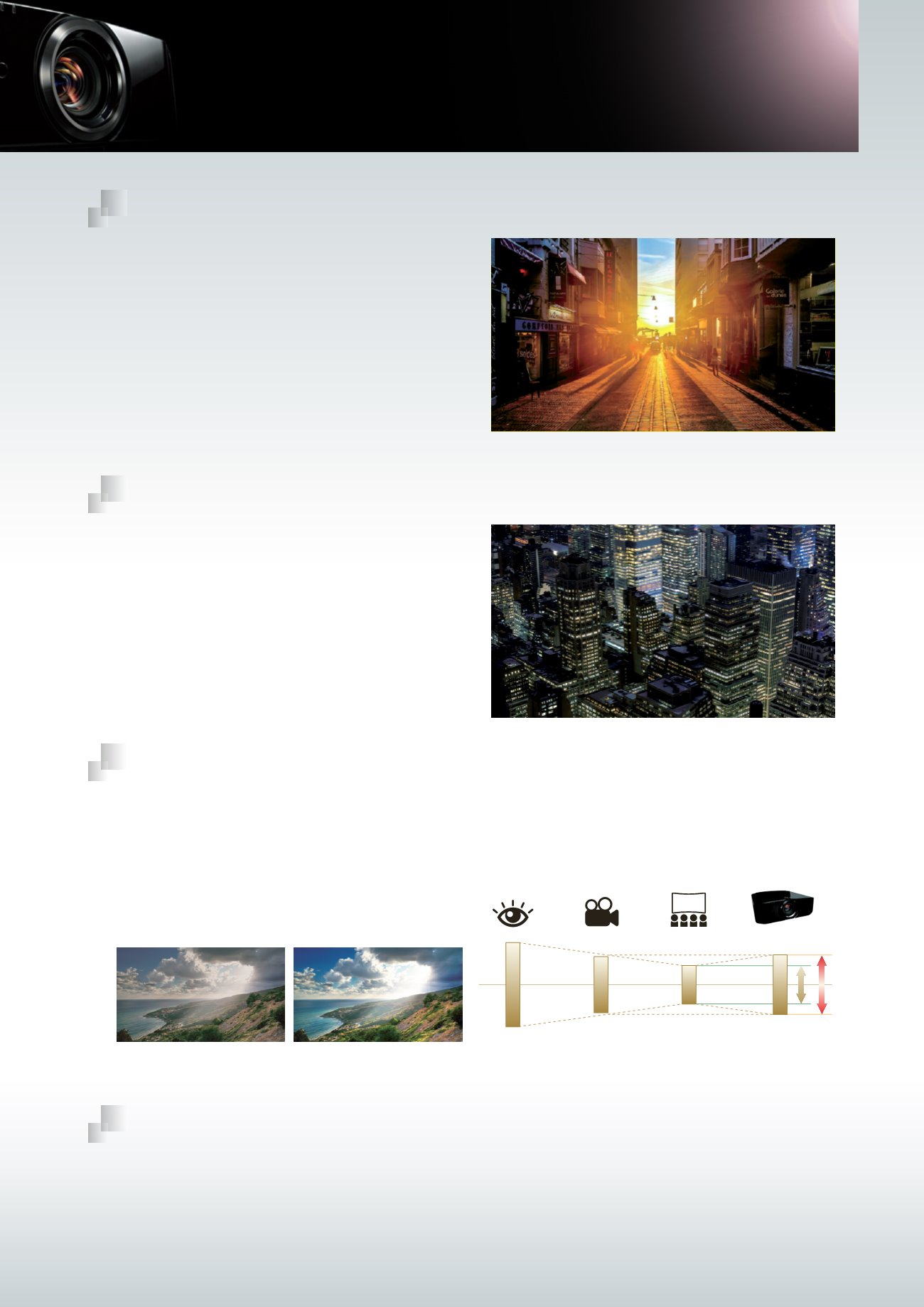 See the details even in the brightest highlights and darkest shadows
4K video full of reality is achieved through ultimate dynamic range
The newly adopted 265W high-output lamp in the new D-ILA
projectors delivers a brightness of 1,900 lm
*1
, which is an increase
of over 40% compared to previous models
*2
. What's more, smoother
and more powerful pictures can be achieved through the combination
of the new lamp and JVC's original D-ILA device with an even
narrower gap between pixels for efficient use of light. Powerful,
vivid and highly detailed 4K high-definition video can be enjoyed
even in environments where it's hard to block out light, such as living
rooms, that are not ideally suited for viewing high-definition videos.
*1: DLA-X9000 *2: Previous model DLA-X900R.
Achieves exceptionally bright 1,900 lm
*1
with
newly adopted high-output lamp
The combination of JVC's original D-ILA device and an optical
engine equipped with a wire grid that complements the new high-
output lamp results in high native contrast ratio of 150,000:1
*3
. Input
signals are analysed with an original algorithm that is combined
with Intelligent Lens Aperture, which automatically controls the
black level of the image to achieve an ultimate dynamic contrast of
1,500,000:1.
*3: DLA-X9000
Ultimate dynamic contrast ratio of 1,500,000:1
*3
achieved by
150,000:1 high native contrast ratio
The new D-ILA projectors are compatible with content boasting a
wide dynamic range such as the next-generation Blu-ray disc that
is expected to expand in the future, and over-the-top (OTT) video
services. Capitalising on the native contrast, these projectors are
capable of achieving visual effects that are similar to the human
eye with exceptional brightness that is close to the dynamic range
for camcorders and a high contrast ratio. Also, the projectors
can display images with peak brightness three times
*5
that of
Compatible with the next-generation HDR
*4
content
Simulated picture
Simulated picture
The projectors are capable of receiving full spec 4K signals including
4K60P 4:4:4, 4K60P 4:2:2/36-bit and 4K24P 4:4:4/36-bit as the units
comply with the latest HDMI standard with 18 Gbps transmission band
width compatibility for reproducing more vivid colours with more
precise gradation. In order to be compatible with copyright-protected
Complies with the latest HDMI/HDCP 2.2 standards to enable
full spec 4K signal input
Human eyes
Contrast ratio:
17,000,000:1
Camcorder
Contrast ratio:
65,000:1
Cinema
Contrast ratio:
2,000:1
Brightness: 48cd/m
2
DLA-X9000
Contrast ratio:
150,000:1
Brightness: 150cd/m
2 *5
Eye
Movie theater
DLA-X9000
Camera
conventional cinemas thanks to the adoption of a new high-output
lamp. With this, what was difficult to display up until now, such as
lustre and glittering, as well as details in dark areas, can be viewed
simultaneously.
*4: Stands for high dynamic range. *5: at 100-inch projection.
Simulated picture
content such as OTT video services and the next-generation Blu-ray
disc, the projectors comply with the latest HDMI standard and HDCP
2.2. With the two HDMI terminals, up to 2 copyright-protection-
compatible HDMI devices can be directly connected.
Conventional projector
DLA-X9000