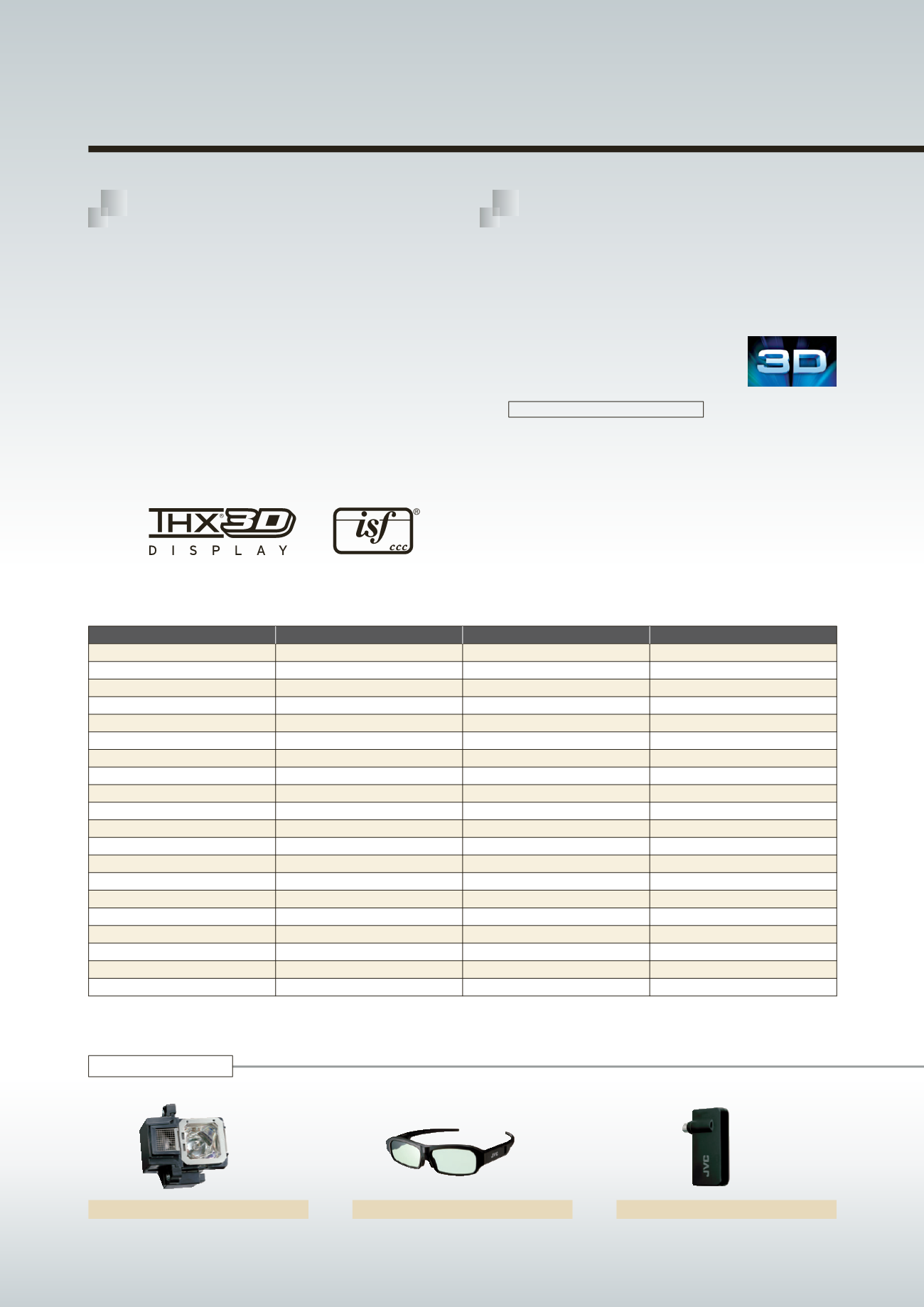 Notes about viewing 3D video content
• The optional 3D Synchro Emitter and 3D glasses are required to view
3D images from the D-ILA projectors. 3D video software (3D media or output
of 3D broadcasts) and a 3D-compatible video player are also required.
• Perception of 3D images will vary with individual viewers.
• Stop viewing 3D images immediately if any discomfort such as headaches,
dizziness, eye fatigue, etc. occurs.
• Viewing of 3D images by children under the age of five is not recommended.
• Read the User Manual and Safety Precautions carefully before viewing any
3D source.
Replacement Lamp
PK-L2615U
Optional Accessories
RF (radio frequency) 3D Glasses
PK-AG3
RF (radio frequency) 3D Synchro Emitter
PK-EM2
In addition to JVC's original Frame Addressing method to
reproduce 3D images with vivid colours, the optical engine
featuring a set of new D-ILA devices is capable of achieving more
brightness. Furthermore, 3D image adjustment functions such as
Crosstalk Cancelling are featured to offer the
kind of realistic and exciting 3D images that
only D-ILA can provide.
Even brighter and high-quality
3D images of D-ILA
The DLA-X9000 and X7000 are accredited with THX 3D
Display Certification which was established to ensure the precise
reproduction of picture quality in home environments for both
2D and 3D content, just as the original filmmaker envisioned.
Encompassing more than 400 laboratory tests to evaluate a
projector's colour accuracy, cross-talk, viewing angles and video
processing, this certification helps to guarantee high-definition
quality. The two projectors are also licensed with the ISF C3
(Certified Calibration Controls) mode
*12
, not only to help reproduce
film or video content accurate to the source but also excellent
picture quality optimised for specific environments.
*12: Professional calibration to desired screen is performed by trained dealers.
Industry Certified Projectors –
THX 3D Display and ISF Certifications
*1 This function cannot be used while projecting in 3D mode. *2 Requires a commercially available optical sensor and dedicated software as well as PC and LAN cables. *3 Requires dedicated
software as well as PC and LAN cables.
Model
DLA-X9000
DLA-X7000
DLA-X5000
4K e-shift4 Technology*
1
●
●
●
4K signal input (4K60P 4:4:4)
●
●
●
HDR compatibility
●
●
●
3D capability
●
●
●
Multiple Pixel Control
●
●
●
Clear Motion Drive
●
●
●
Motion Enhance
●
●
●
Real Colour Imaging Technology
●
●
—
Colour Temperature (Xenon light-source colour)
●
●
—
MPC Analyser
●
●
●
Picture Tone
●
●
●
Pixel Adjust
●
(by 1/16-pixel increment, 2 memories)
●
(by 1/16-pixel increment, 2 memories)
●
(by 1/16-pixel increment, 2 memories)
Lens Memory
●
(10 memories)
●
(10 memories)
●
(5 memories)
Screen Adjustment Mode
●
●
●
Auto Calibration*
2
●
●
●
12-point manual gamma adjustment*
3
●
●
●
Picture Data In/Out*
3
●
●
●
THX 3D Display Certification
●
●
—
ISF C3 mode
●
●
—
Control4 SDDP Compatibility
●
●
●
Feature Comparison