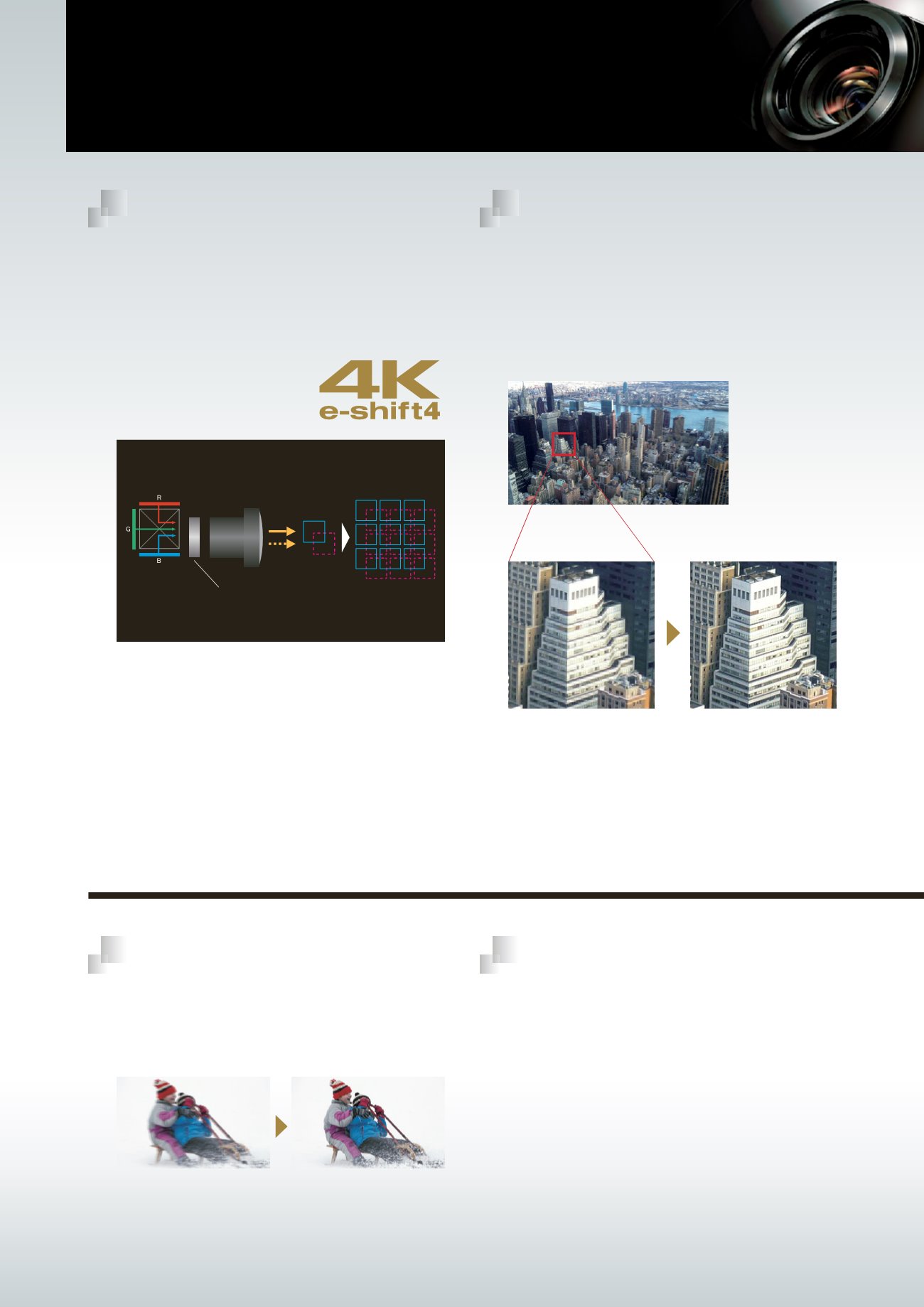 Smooth yet vivid — experience 4K quality as only D-ILA makes it possible
Technologies to realise D-ILA 4K images
JVC's e-shift technology shifts sub-frames by 0.5 pixels both
vertically and horizontally to achieve 4 times the pixel density
of the original content. The latest e-shift4 Technology is capable
of inputting full-spec 4K video signals including 4K60P 4:4:4
thanks to the optimised engine and the newly adopted high-
power lamp. These improvements
result in an even higher definition
picture with more precision.
Original 4K e-shift Technology
continues to evolve
JVC's original high-performance image processing technology,
Multiple Pixel Control, has been improved to match the trend
towards higher resolution. Through adoption of a new analysis
algorithm, the MPC is now capable of more accurate diagonal-
detection between frames for both full HD and full 4K resolution
signals, delivering a thoroughly immersive high-definition
4K image.
New Multiple Pixel Control
High-quality moving images
Further improvement has been applied to JVC's original Clear
Motion Drive. It now is compatible with 4K60P 4:4:4 signals for
reproducing moving images without ghosting or afterimage issues.
Clear Motion Drive with
High-speed LSI
Clear Motion Drive OFF
Clear Motion Drive ON
In addition to the improved Clear Motion Drive, the new D-ILA
projectors are equipped with originally developed Motion Enhance
technology. By optimally controlling the driving performance
of D-ILA devices by image characteristics, residual images
and blurring that are often found in fast-moving images are
reduced. JVC's original Clear Motion Drive and Motion Enhance
technologies will help to reproduce a variety of crisp and smooth
moving images.
New Motion Enhance
Simulated picture
Original image
Previous MPC technology
New MPC
D-ILA device
e-shift device
Projection lens
Resolution doubles
in both directions
The new 4K e-shift4 Technology
D-ILA optical unit